ABOUT THE CONFERENCE
ANNUAL SEAPAVAA CONFERENCE
Known for its hospitality and engaging community dynamics, the annual SEAPAVAA Conference is where like-minded people facing the same challenges come together to share their knowledge and experience.
22nd SEAPAVAA CONFERENCE
The changing sociopolitical and technological landscapes constantly challenge archival boundaries which are being pushed on all fronts. Audiovisual archives are then asked to remain open and pursue exchanges as practices, values, and objectives are both strengthened and questioned. That is so that the audiovisual archives, the profession at large, and the communities they serve may expand and be boundaryless together.
In 2018, SEAPAVAA is heading back to Bangkok, Thailand, for our  22nd Conference and General Assembly (6th – 12th of April)  to consider and discuss this very issue with the theme: "AV Archiving Beyond Boundaries".
THE CONFERENCE LOGO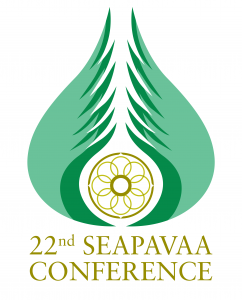 22nd SEAPAVAA Conference Logo
Designed by Ricky Orellana
Bangkok otherwise known as Krung Thep, is called the "City of Angels". It is the inspiration for the  22nd SEAPAVAA Conference logo which takes its  form from a pair of angel wings, rendered in shades of green combined with elements in gold.
Angels being the purest expression of the winged spirit,  are related to freedom and the imagination. Its wings are an expression of aspiration to transcend any forms of boundaries. Taken together, these elements exude the conference theme "AV  Archiving Beyond Boundaries".