ABOUT THE CONFERENCE
Annual SEAPAVAA Conference
Since SEAPAVAA's inauguration in 1996, member-countries have taken turns in hosting the association's annual conference, in conjunction with the yearly Executive Council and General Assembly meetings. Together with the main symposium and meetings, the SEAPAVAA Conference includes workshops, archival gems screening, a trade show, the recently inaugurated Restoration Asia, institutional visits and social events including welcome and farewell dinners, and an excursion. It provides an opportunity to engage and network with colleagues from around the world and promotes the exchange of ideas, skills building, and cooperative action.
The Conference is also known for its signature warmth, camaraderie and unparalleled hospitality of the region and its people.
One of the contributing factors to the rise in awareness of audiovisual archiving in the region has been the annual gathering of audiovisual archivists from not only across South East Asia and the Pacific, but from across the globe. SEAPAVAA's annual conference provides a forum for discussion of relevant issues and a sharing of experiences in what are arguably the most difficult conditions imaginable for archiving fragile audiovisual objects. At the conference issues are raised and potential solutions are found to local problems that operate with the levels of resources available to the regional collecting organisations. Often these solutions have been fed into the global audiovisual archiving community.
–Mick Newnham, SEAPAVAA President (2014-2017)
21st SEAPAVAA Conference
The theme for the 21st SEAPAVAA Conference is Imagining an AV Archive of the Future.
The Conference Logo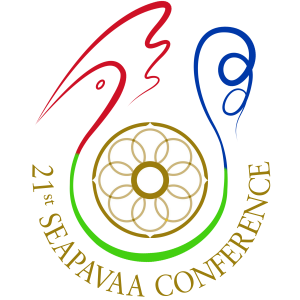 "Sarimanok" logo
By Ricky Orellana
The Sarimanok is a mythical bird creature of Philippine Folktale & Legend that originated from Mindanao. It is said to be a symbol of good fortune. Year 2017, in Chinese calendar is the year of the Red Fire Rooster (January 28, 2017 to February 15, 2018). The rooster being a symbol of dawn and awakening.
The design approach to the 21st SEAPAVAA Conference logo can be described as simple, flowing and organic. Okir as a design motif, again from Mindanao, is based on an elaborate vine pattern. The flowing calligraphic lines of the simplified Sarimanok greatly complements with the geometric design of the standard SEAPAVAA logo.
Flowing lines denote imagination (flood of ideas & flow of thoughts), sustainability, continuity, power of movement, development and progress are in line with the concept of this year's theme "Imagining an Archive of the Future."